Twenty fours years into a stellar musical career that has included collaborations with Led Zeppelin's Jimmy Page, the Grateful Dead's Phil Lesh, and countless others, The Black Crowes continue to wow audiences with their distinctive blend of high energy soul rock n' roll.
Although the band has continued to put itself in an "on again and off again" status, having announced two separate hiatuses over the last decade, they always come back for more. If there is any existing tension remaining between brothers Chris Robinson (vocals), and Rich Robinson (guitar), it was not at all evident at this show. The group appeared tight, loose and in great form throughout the two hour and 15 minute set.
Touring for the first time since 2011, the Crowes current lineup consists of three original members- both Robinson brothers, Steve Gorman (drums), longtime bassist Sven Pipien and newcomers Adam MacDougal (keyboards) and Jackie Green (guitar). Greene takes over for Luther Dickinson of the North Mississippi All Stars who was unable to join the band on this tour.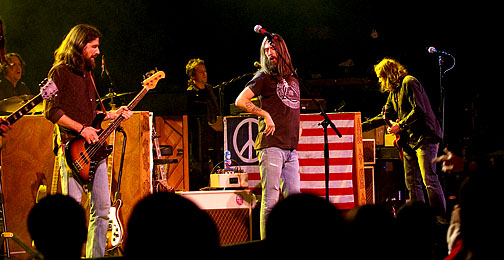 After nine studio albums, the Crowes have a wealth of material to pull out at each show. The band opened with the rousing "Twice As Hard" and "Sting Me." Once the juices were flowing, the interplay among the band was at full throttle. The classic "Wiser Time" stood out as the band took this one on a dynamic instrumental jam which saw each band member take a lead solo.
As a drummer, I always pay a little extra attention to the rhythm section. Gorman is known for his powerful pocketed grooves and back beat, which bring out his inner John Bonham and swing influences. He expertly lead the band in and out of each section with ease; turning up the intensity when needed, and providing the subtle feel when necessary.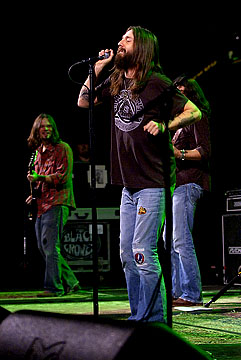 After a two song acoustic set that began with "She Talks to Angels," it was Chris Robinson's turn to showcase his renowned vocal chops and roots harmonica playing with the Arabian influenced, "Whoah Mule." Robinson retains the presence that front men of lore used to have, standing alone at the mic and the leader who is hell bent on having a good time.
The band finished off with rousing finale's of "Thorn in my Pride, a very extended "Soul Singing," and "Remedy. The dueling guitars of Robinson and Greene during the long solo sections made for prime listening.
Smiles were abound as the band came back out for an encore with "Hard to Handle." Originally an Otis Redding song, the Crowes covered this on their 1990 album "Shake Your Money Maker," which catapulted them onto the national scene. The band included Deep Purple's "Hush" in the middle of the jam section and swiftly returned back into the song for one more chorus.
With a a great collections of songs and jams, there was never a dull moment throughout the night. If the Black Crowes are coming to your city on their current tour, it is definitely recommended to check them out.
The Black Crowes
May 1st, 2013
House of Blues
Orlando, FL
Set list
Twice as Hard
Sting Me
Good Morning Captain
Hotel Illness
Medicated Goo
Ballad in Urgency
Wiser Time
She Talks to Angels
Whoa Mule
By Your Side
Thorn in My Pride
Soul Singing
Jealous Again
Sometimes Salvation
Remedy
Encore
Hard to Handle/Hush
=======
Written by Joe Lederman of The Dropa Stone for Music Binds Us All.
Categories:
FL live Music
,
Florida Live Music
,
Jam Bands
,
Live Music
,
Music Binds Us All
· Tags:
Black Crowes
,
Blues
,
Chris Robinson
,
Florida live music
,
Hard to Handle
,
House of Blues Orlando
,
Jam Bands
,
Jimmy Page
,
Lake Buena Vista
,
Music Binds Us All
,
Orlando
,
Phil Lesh
,
Rich Robinson
,
Rock
,
Soul
,
Steve Gorman
,
The Black Crowes